This page lists some websites that I find interesting.
Please open links in a new browser window if you wish to remain here on my site.
Want a link?
If you link to my site I'll consider adding you to the list which will appear above. Please note that I don't publish reciprocal banners, only a text link. Put up your link and mail me.
The sites which send me most traffic (reviewed weekly) will also be listed at the bottom of the front page.
Please note that sites that send no traffic for a period of 2-4 weeks will be removed. So, no point asking for a link exchange unless you intend keeping up your link to my site!
If you have a site that is of special interest, such as those listed right, then let me know and I'll consider it. A link back isn't necessarily required for these.
Other
WriteAPrisoner: write to a prison penpal. Most are in America and these guys and girls need friends.
Michael Moore: '1,000 Dead -- how Do You Sleep Mr. Bush?' Asks Michael Moore on his website.
Stop ID Cards: and the Database State. 'Some people have been peddling lies about the government's proposed national identity scheme. To put matters straight, we have assembled a list of frequently asked questions, with answers.'
Urban Legends: thousands of urban myths and legends.
Fortean Times: the world of strange phenomena.
Photography
The Francis Frith Collection: thousands of photos of British towns and villages dating from between 1860 & 1970.
ISPs & internet
ADSL Guide: reiews and speed tests of UK ADSL providers.
Website design
Javascript Source: lots of cool free scripts for your website.
Alternative news, activism, & community
3-C: residents in Hebden Bridge and the Calder Valley were fed up by the lack of broadband in their area and the attitude of British Telecom, so they got together and launched their own co-operative service.
Peter Tatchell: the homepage of campaigner Peter Tatchell.
Brixton Linux Action Group: they produce a great distribution of Linux, called 'Blag', which I use on one of my PCs.
GNN: Guerilla News Network.
IndyMedia: alternative news site.
Mainstream news & magazines
The Independent: British newspaper.
The Times: owned by Rupert Murdoch, who also owns Sky TV. So expect lots of BBC-bashing stories!
The Guardian: puts most/all of its content online every day. The MediaGuardian and Online sections are especially worth checking out.
The Register: news about technology and IT.
Reuters: news agency.
.Net: a large collection of articles from the UK Internet magazine.




Places

The Fabulous Ruins of Detroit: a poignant, collection of photographs, which catalogue the decline of Detroit over the last half a century.

Cold-War Manchester: read about this cold-war bunker under Manchester city centre -- close to where I live.

Environment & nature

The Tree Council: a registered charity which promotes the planting and conservation of trees and woods throughout the United Kingdom. Some interesting facts: did you know that nineteen million trees were blown down in the storms of 1987 and 1990?

British Trust For Ornithology: promotes bird conservation through volunteer-based surveys. Has a good guide on how to build a bird nest box.

Evidence of global warming: including many 'then and now' photographs.

Manchester

RenterGirl: the horrors of being a tenant in a buy-to-let apartment block in Manchester.

History & crime

Casebook of Jack the Ripper: all about the infamous murders. I'm a bit of a sucker for this, especially as I lived in the East End of London for a while.

The Real 1970's: the media doesn't always portray the 1970's accurately. This site attempts to give a true picture.

The Real Yorkshire Ripper Story: this site suggests that Peter Sutcliffe was a copycat killer and that the other murderer is still on the loose.

24 Hour Museum: gateway to more than 3000 UK galleries, museums and heritage attractions.

FilmSite.org: includes an excellent history of the movies & Hollywood.

Nebraska Studies: the history of the state of Nebraska.

TV & film

Vaughn Lowery: personal website of the actor who featured in national US TV ads for Kmart and Joe Boxers underwear. IMDB profile here.

Gordon Heath: a short biography of this gay African American actor. Gordon Heath was the narrator on the animated British film Animal Farm and appeared in several plays on British TV in the 1950's, including Tony Richardson's 1955 version of 'Othello' on BBC. His male partner was Lee Payant who provided the narration on the classic BBC TV children's series of the 1960's 'Robinson Crusoe'. Despite success and acclaim for Heath's acting career in the United States, the pair relocated to Europe in the late 1940's, as the US was hardly the best place in which to be openly gay and in an interracial same-sex relationship during that period. For nearly 30 years the couple ran a night-club in Paris called 'L'Abbaye', where they entertained the customers with American and French folk songs.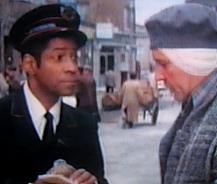 Gordon Heath had a tiny role as a postman in the film 'Staircase' (1969). In it, Burton and Rex Harrison play a gay couple who run a hairdressers. It would be interesting to know the background to how he came to play this role in a film with this theme. His memoirs were published with the title: 'Deep Are the Roots: Memoirs of a Black Expatriate'. There is another bio of Gordon Heath at Screen Online.

TV Archiving: a blog about online video and the future of broadcasting.

TV Guide (UK): daily TV schedules from The Guardian newspaper.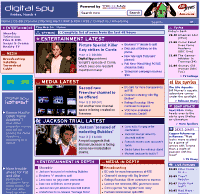 Digital Spy: UK entertainment and media news. Good Big Brother coverage in the months when that is running.
Billie Hayes On-line: homepage of fabulous Billie Hayes, who played 'Witchipoo' in the psychedelic 1970's children's TV series H.R.Pufnstuff. One of my favourite TV characters when I was a kid! Did you know she also appeared as a very similar-looking witch in an episode of Bewitched?
The studio owned lots, backlots and ranches: photos and info about the studio backlots in Hollywood and England, over the years.
Dr Who Bloopers List: a massive list of all the mistakes in the TV series Dr.Who.
BBC: homepage of the UK's public service broadcaster.


Films to watch online
British Pathe: the whole of the British Pathe news archive is now available to watch online. News and films going back more than 100 years.
MovieFlix: public domain movies. You'll need an inexpensive subscription for a lot of the films but there is much free stuff too.
ifilm: videos of all kinds - news, viral, sport, film, comedy. Mainly American.
The Internet Archive: a huge collection of movies online, including the Prelinger Archives of 48,000 'ephemeral' (advertising, educational, industrial, and amateur) films. Don't miss hilarious period-pieces such as 'Perversion For Profit' (be warned... looking at homosexual images may turn you that way!). And 'Are You Popular?' -- which shows the differences between 'good' and 'bad' girls... Many of these films are not copyrighted and, if you're into making your own non-commercial videos, the archive actively encourages you to use clips.
FSTV: site for the US TV station Free Speech TV. With many videos to watch online in RealMedia format.
Classified ads
Craig's List: free, non-profit service with categories for many major cities worldwide.
Films to buy
BuyIndies: this site provides distribution for all kinds of otherwise hard-to-find independent and vintage films.
Health
Ban Trans Fats: read about trans fat -- the worst kind of fat -- which manufacturers load into many foodstuffs.
The Vegan Society: how to live on a meat and dairy-free diet.
Video making
VideoHelp.com: reviews and how-to-do-it guides. How to make your own DVDs or back-up existing discs. Tools and techniques for video capture and conversion between different video formats. Genuine user reviews of DVD players, recorders and writers. Discussion forums.
DV FAQ: lots of useful info about digital video.
Gay
QueerYouthNet: great British resource for young people. It has members all over the country and active groups established in London, Birmingham and Manchester.
GayMafiaWatch: as in mainstream life, there are LGBT businesses and organisations that are good and others that are not-so-good. As British society has become more gay friendly over the last decade, some of the more dodgy people have been able to flourish without too much scrutiny. However that is beginning to change. GayMafiaWatch looks into some of the hypocrisy, backscratching and seedy money grabbing.
Gay Monitor: campaigning for LGBT rights.
Young Gay America: a resource for young gay men and women.
Imaan: social support group for lesbian, gay, bi, transgender Muslims, and their friends, families and supporters.
kaffequeeria: alternative gay events in Manchester.
Adam & Andy: if you like comic strips, don't miss this. Updated every Sunday, it follows the life of two gay men. Funny and sexy too.
The Tomb of Niankhkhnum and Khnumhotep: read about this ancient Egyptian tomb that was built for two men who were manicurists in the palace of the king.
The Other Stream: read about David's obsession with the history of the US supermarket (especially Safeways). Follow his road-trips and his love/hate relationship with San Francisco where he lives.
Uncle Donald's Castro Street: a fascinating site with hundreds of photographs recording gay life in San Fancisco from the 1960's to date.
Last updated:
Thursday, May 14, 2020